Au départ du centre ville de Charolles, "petite Venise Charolaise", traversée par l'Arconce et la Semence, cette boucle vous emmènera à travers les paysages du Charolais et sur les traces du double vainqueur du Tour de France. Charolles fut la capitale du Comté du Charolais qui a appartenu notamment aux ducs de Bourgogne, dont Charles le Téméraire fut le dernier représentant.
Avant de démarrer la boucle cyclotourisme, flânez dans le cœur de ville pour découvrir les nombreux vestiges des XVème et XVIème siècles et bien sur, arrêtez-vous à la Galerie Bernard Thévenet, qui retrace la carrière en tant que cycliste amateur puis professionnel du fameux cycliste charolais.
Après avoir découvert cette jolie ville, dirigez-vous vers Vendenesse les Charolles par la D17. Si vous le souhaitez, faites un petit détour sur votre droite pour aller découvrir les fours à chaux à Vendenesse-les-Charolles, construits au XIXème siècle et classé Monument historique (1er mai au 31 octobre de 10h à 19h). Retournez sur vos pas, ou plutôt vos roues, pour retrouver la D17 puis prennez à gauche direction Viry. Poursuivez sur votre gauche pour rejoindre le lieu-dit Chechy puis prennez la D33 sur votre droite. Au bourg de Viry, prennez la D333, traversez Fontenay, Chamoge, Champlecy.
Au bourg de Champlecy, place natale d'Anne Charlotte de Chanlecy qui a épousé d'Artagnan, le célèbre mousquetaire du Roi Louis XIV, dirigez-vous vers St Aubin en Charolais par la D25. Continuez sur la D25 jusqu'au lieu-dit La Gravoine où vous prendrez la D974 sur votre gauche. Longez le canal du Centre, qui relie Chalon-sur-Saône à Digoin. Long de 112 km, il compte 61 écluses et a été réalisé entre 1784 et 1793.
Après être passé non loin de Volesvres puis sous la N79, poursuivez sur la D974 qui rejoint ensuite la D979, toujours le long du canal du centre. Au premier feu tricolore, il faut faire un choix ! Chef d'oeuvre de l'art roman bourguignon avec la basilique du Sacré-Cœur, Cité de la mosaïque grâce aux nombreuses activités proposées autour de cet art, cœur de ville moyenâgeux, Paray-le-Monial saura vous accueillir. Faites une petite pause dans votre boucle cycliste en tournant à droite sur la D191 et visitez Paray-le-Monial ou bien tournez à gauche sur la D191 et continuez votre route en vous promettant de revenir visitez cette belle ville Charolaise !
Après être passé sous la voie férrée, tournez directement à gauche sur la route de Poisson (D34) pour rejoindre ce village charolais. Au bourg, prenez à gauche sur la D458, traversez la D10 puis continuez tout droit, traversez l'Arconce, affluent de la Loire qui prend sa source au cœur des monts du Charolais. Rejoignez la D20 puis le bourg de Saint Julien de Civry, village natal de Bernard Thévenet. Sortez du village sur la D20 et au lieu-dit Le Guidon, place natale du fameux cycliste, tournez à gauche sur la D985, direction Charolles. Traversez Changy puis retrouvez Charolles et, si vous ne l'avez pas visité au départ, arrêtez-vous à la Galerie Bernard Thévenet !
71120 - CHAROLLES
Saône-et-Loire
Type : Tourist on bicycle
Departure : CHAROLLES
Arrival : CHAROLLES
Distance (km) : 60
Duration (h) : 2h30
Niveau : Mean level
Height : 100
You may also like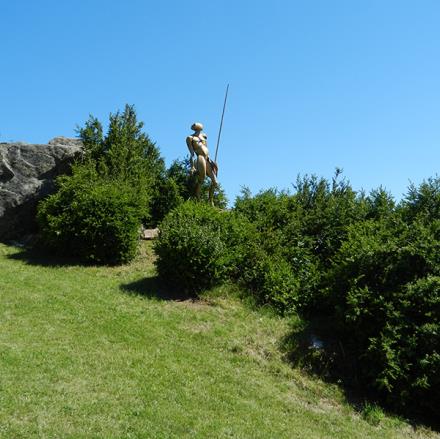 La balade débute au village de Suin, 593 m au-dessus du paysage. L'horizon sous contrôle, le lieu fut investi par les celtes avant d'accueillir...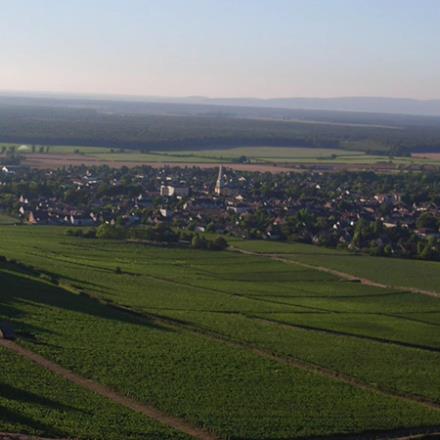 This excursion is all about taking on the Côte Chalonnaise vineyards, with the additional and very rewarding challenge of leaving the bicycle...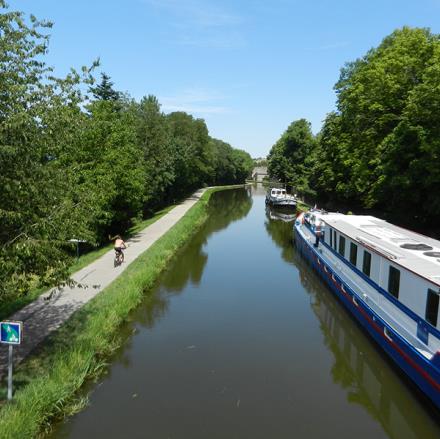 Chalon-sur-Saône-to-Digoin. This stage along the EuroVelo 6 route alternates between Greenway paths and sections pedalling on roads with a few...