Start at the church (1) and take the pedestrian footpath alongside the stadium. Cross the D987 to the cemetery and take the communal road for 1.5km (2). Take the old stone bridge to cross over the River Sornin. Go alongside the old mill of Roncemay. After going up 300m turn right and follow the lane as far as La Beluze (3). Turn left and go through the hamlet of la Beluze. At the crossroads turn right and go through La Macelle. Continue for 500m, turn left (good view over the village), through the hamlet of Vervaux, then Les Guinets. Half way up the hill you get a good view of the Dun Mountain with its chapel. Arriving in the hamlet of La Faux (5), turn left and continue for 2Km towards the Croix des Gachets (6). Take the lane that goes down between two hedges; go right to Ronzeau, then take the lane through the underwood as far as the hamlet of La Velle (7). Go left and cross the D987 to the hamlet of La Tuillière; turn left behind the hangar then left again to Mont (8). Turn right, go straight on for 200m, then take the lane alongside the pretty stone houses to Champery. Go right, ( pass the Charolaise Cattle Breeding Farm) until you get to the statue of La Vierge de Mollet (9). Turn right to go back to the Bourg of Varennes on a section of road in common with Circuit VA1. On your right is the Chateau de Grandvaux.
Le Bourg
71800 - VARENNES-SOUS-DUN
Saône-et-Loire
Type : Foot
Departure : VARENNES-SOUS-DUN
Departure area : Place de l'Eglise
Arrival : VARENNES-SOUS-DUN
Arrival area : Le Bourg
Distance (km) : 14
Niveau : Mean level
You may also like
From Ladoix-Serrigny to the vineyards of the Maranges, the road continues along the foot of Côte de Beaune which prolongs the Côte de Nuits by a...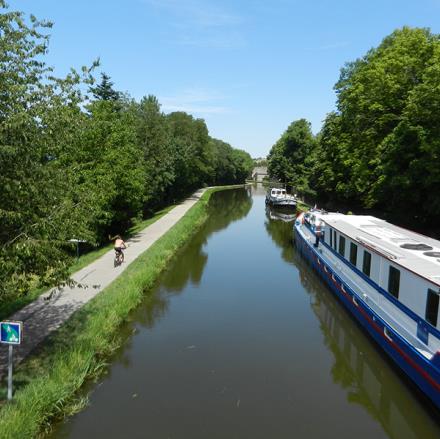 Chalon-sur-Saône-to-Digoin. This stage along the EuroVelo 6 route alternates between Greenway paths and sections pedalling on roads with a few...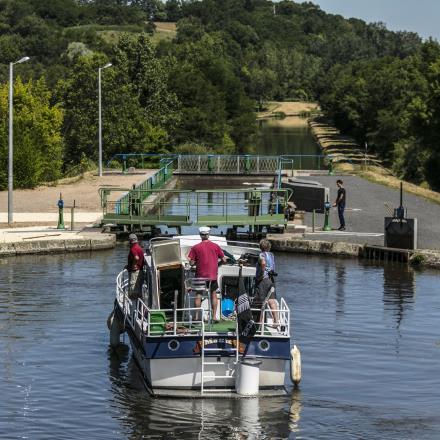 Bourg-le-Comte est situé sur une colline dominant la Loire. En contrebas vous apercevrez le canal de...