Activities :
oenology (Beginners course, L'Atelier 37 rue du Faubourg St Nicolas 21 200 Beaune)
(Beginners course, L'Atelier 37 rue du Faubourg St Nicolas 21 200 Beaune)
L'Atelier 37 rue du Faubourg Saint-Nicolas
21200 - BEAUNE
Côte d'Or
&nbspVisit website
Initiation à la dégustation en 3 séances, les lundis de 19h00 à 20h30 tout au long de l'année.
- 1ère séance : L'équilibre du vin
Pour comprendre l'équilibre du vin, nous nous familiariserons avec les saveurs et sensations acides, amères, tanniques, sucrées et alcoolisées. Place ensuite à la dégustation avec trois crus soigneusement sélectionnés.
- 2ème séance : Les arômes du vin
Nous aiguiserons notre nez à travers un panel d'arômes mis à notre disposition. Après cette sensibilisation aromatique, nous dégusterons quatre crus pour le plus grand plaisir de nos papilles !
- 3ème séance : Les défauts du vin
Trois vins, que j'aurai préalablement modifiés, vous seront proposés afin de s'imprégner des principaux défauts du vin. Nous dégusterons ensuite trois crus délicatement parfumés !
À chaque séance, nous mêlerons travaux pratiques et dégustation commentée de trois à quatre crus.
Une ardoise de charcuterie fromages accompagne la dégustation.
Tarif 3 séances : 135 € (à l'unité : 50 €)
Consultez le calendrier : www.ceresetc.com
Spoken languages :
Last update : 05/08/2019
Payment
Cheques and postal orders
Cash
Bank transfers
Nearby search
Please insert a distance in order to get nearby points of interest
You may also like
Dégustations commentées sur réservation pour un groupe de 8 à 20 personnes. De 19h à 20h, apéritif dégustation de 2 vins régionaux accompagnés de...
Take part in the Le Clos de Bourgogne's introductory workshops and learn about vine and wine. On the programme: On the agenda: vineyard walks or ...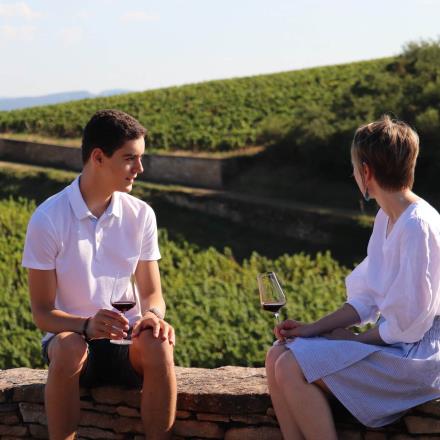 Sensation Vin offers tasting and oenology courses which combine knowledge and pleasure. In Beaune, a specially designed area is entirely given over...