L'agréable grimpette qui mène jusqu'à la crête offre une position dominante sur un tapis de champs et de vignes piqué de hameaux épars, le plateau d'Hurigny. Dans ce paysage exquis qui respire l'harmonie, un beau clocher roman couve avec bienveillance un des villages typiques du Mâconnais dont le patrimoine bâti fait l'objet d'un autre circuit. Le sentier court le long des lignes de crêtes, coiffées de bois ou habillées de landes, encadrant le plateau. Sur les monts, les orchidées sauvages égayent au printemps la végétation rase et précieuse des pelouses calcaires. Depuis les hauteurs du Gros Mont, la vue embrasse les roches du Mâconnais (Solutré, Vergisson…) et l'immense panorama de la vallée de la Saône, de la ville de Mâcon et des premiers contreforts du Jura.
HURIGNY
Type : Equestrian, Foot, Mountain biking
Departure : HURIGNY
Departure area : Parking principal de l'école
Arrival : HURIGNY
Arrival area : Parking principal de l'école
Distance (km) : 9
Niveau : Mean level
Height : 90
Download document(s)
Vous aimez randonner ?
You may also like
Via the Saône, it is also possible to join the Burgundy canal at Saint-Jean-de-Losne, with the river running alongside the south Mâconnais...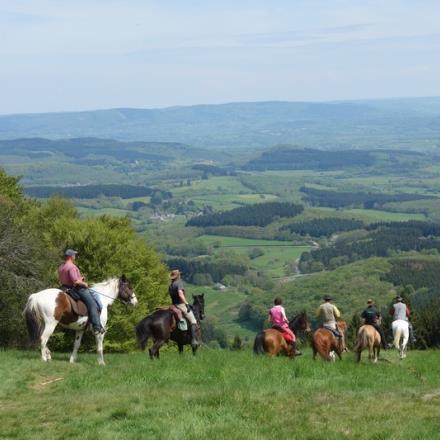 Le Tour équestre du Morvan correspond à environ 600 km pour une grande boucle dans le Parc naturel régional du Morvan. Sont associés à cet...