Voici la Côte Chalonnaise, prolongement naturel de la Côte de Beaune. La vigne a pris possession du paysage que souligne la pierre blonde et rose. Aspiré, le circuit part à la conquête des magnifiques coteaux plantés du vignoble classé "Givry 1er cru" dont le vin a des parfums de fruits rouges. Henri IV en raffolait ! Dans le frémissement des vignes, les cadoles, petits abris de pierre sèche utilisés par les vignerons, ajoutent leur note de charme. La lumière qui rebondit sur le clocher roman de l'église de Cortiambles éclabousse jusqu'au très original lavoir à impluvium. A l'instar de Notre-Dame-de-Varanges, la chapelle de Poncey bénit les clos alentour. Au retour sur Givry, la vigne cède la place aux cèdres et aux pins noirs, le vert gagne en hauteur et dans l'air flotte l'odeur des beaux résineux plantés sur les anciennes chaumes calcaires.
GIVRY
Type : Equestrian, Foot, Mountain biking
Departure : GIVRY
Departure area : Grand lavoir (centre du village) et hameau de Russilly
Arrival : GIVRY
Distance (km) : 10
Height : 140
Download document(s)
Vous aimez randonner ?
You may also like
Depuis l'église prenez la direction de l'ouest, vous découvrez les paysages du Brionnais et au loin les contreforts de l'Auvergne. En descendant...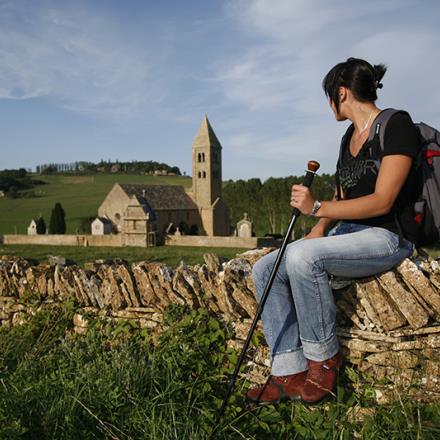 Sur un décor vert-pâturage, l'église romane de Mazille compose un joli tableau de bienvenue. Le village souriant aux belles maisons mâconnaises...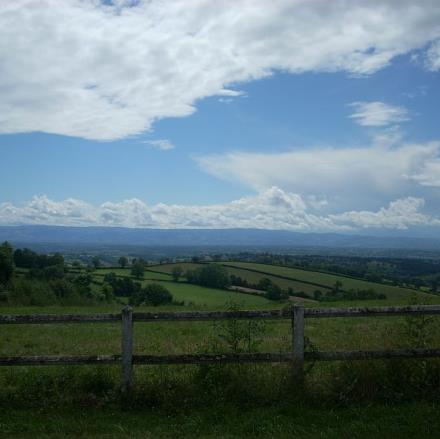 The Brionnais has an unprecedented number of Romanesque churches and chapels. All different, their golden stone walls shimmer in the clear light....