Au départ de nos circuits qui sont communs sur la 1e partie vous passerez devant le café du village et vous dirigerez en direction de Montrocher-le Perret. Au hameau de Montrocher vous surplomberez une 1e fois la voie ferrée Paray-le-Monial-Lyon. De ce lieu, vous découvrirez un très beau point de vue sur le hameau du Trembly. Plus loin, tournez à gauche et rejoignez le hameau de Lavaux. Bientôt vous apercevrez son château qui est privé et ne se visite pas. Franchissez la passerelle du ruisseau de Lavaux (altitude 288 m) et vous êtes au pied de cet imposant édifice. Poursuivez votre chemin en direction du bois de la Gueurce que vous traversez en prenant sur votre droite. 1 km plus loin, à la sortie du bois de Trembly, vous découvrirez le hameau de Mans où sont construites de belles maisons de caractère et une chapelle restaurée. Prenez à gauche à la chapelle et rejoignez le hameau de Conche où subsiste un ancien moulin. Au calvaire de Conche, prenez à gauche ; 200 m plus loin nos circuits se séparent. Ceux qui choisissent le 9 km prennent à droite et rejoignent le bourg de Dyo en passant sous le viaduc Ceux qui optent pour les 15 km poursuivent tout droit, rejoignent le hameau de Basse, et montent à la Chapelle de Saint Prix après avoir franchi une seconde fois la voix ferrée. Au-dessus de la chapelle et de sa fontaine, prendre de nouveau à droite et monter en direction de Notre Dame des Bois ; point culminant de la commune à 469 m. Un détour de 100 m vous permettra, si vous le souhaitez, d'accéder à ce petit sanctuaire. Poursuivez votre chemin en direction de Delaine, le Bois de la Charbonnière et retrouvez la route goudronnée. Prenez à droite et 100 m plus loin, prenez à gauche. Ce chemin creux vous conduira au Vieux Bourg. Faites le tour de ce hameau qui vous permettra de découvrir les ruines de l'ancien château fort; seul le donjon reste entier. Un dernier effort et vous serez de retour au point de départ. Passez de nouveau devant le café où un remontant peut vous être utile! Votre périple est achevé. Nous espérons que vous aurez apprécié ces quelques heures de randonnée chez nous, et vous suggérons d'y revenir à l'occasion.
Le Bourg
71800 - DYO
Saône-et-Loire
Type : Foot
Departure : DYO
Departure area : Le Bourg
Arrival : DYO
Arrival area : Le Bourg
Distance (km) : 15
Niveau : Mean level
You may also like
Via the Saône, it is also possible to join the Burgundy canal at Saint-Jean-de-Losne, with the river running alongside the south Mâconnais...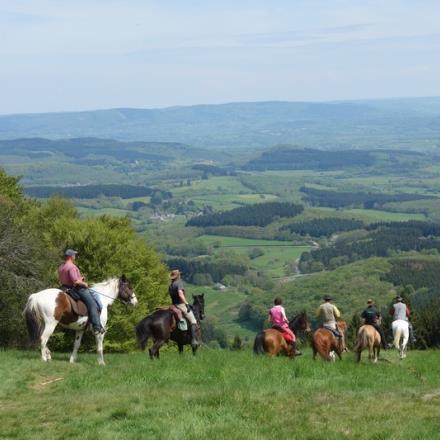 Le Tour équestre du Morvan correspond à environ 600 km pour une grande boucle dans le Parc naturel régional du Morvan. Sont associés à cet...