Le petit village de Saint-Emiland règne sur un pays parsemé de bois, irrigué par les ruisseaux et baigné par deux plans d'eau. La retenue du Pont du Roi, réserve d'eau potable, submerge un ancien vallon sur plusieurs kilomètres et prête ses rives sauvages aux plaisirs de la pêche et de la balade. Le patrimoine local s'enorgueillit d'une église romane, de lavoirs et de singulières curiosités. La fontaine de Saint-Emiland abrite la source qui jaillit, selon la légende, à l'endroit même où périt Saint Emilien. Réputée pour ses vertus miraculeuses, la fontaine fut longtemps l'objet de pèlerinages. Dans la forêt, la "pierre guénachère" est un gros bloc de granit ; elle serait le témoin d'une très ancienne pratique qui utilisait les rochers de la forêt pour en extraire des pierres de meule. Exploitée depuis l'antiquité, l'ancienne carrière du Pont d'Argent a fourni dernièrement des pierres pour les travaux du TGV.
SAINT-EMILAND
Type : Equestrian, Foot, Mountain biking
Departure : SAINT-EMILAND
Departure area : Au bourg
Arrival : SAINT-EMILAND
Distance (km) : 7
Niveau : Easy
Height : 60
You may also like
Only twelve or thirteen kilometres separate two of the area's premier tourist spots: Cluny and Cormatin. Over this stretch, the cyclist is treated...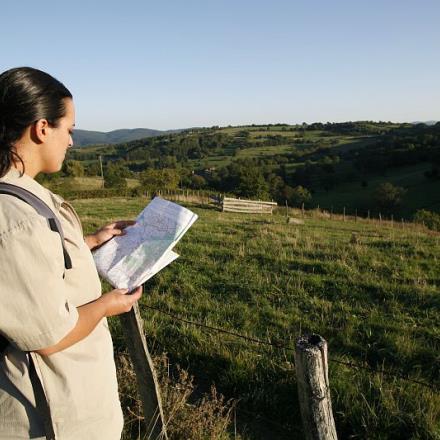 Dans le drapé des douces collines brionnaises palpite le village de Coublanc. De là, le chemin part à travers champs sur les joues rebondies d'une...
Répondre à l'appel de la forêt, c'est suivre le chemin qui va se suspendre dans les bois de la somptueuse forêt de Montmain et joue de la...